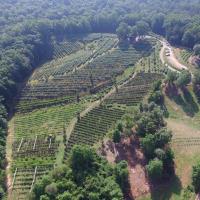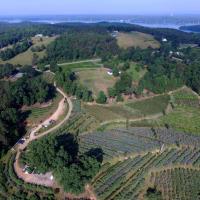 The Happy Berry
Contact: Walker & Ann Miller
Address: 510 Gap Hill Road 120 kelley Creek Rd Six Mile, SC, 29682
Phone: 864-350-9345
About Us
The Miller family(walker, Ann, Zoe and Betty Ann) opperate the Happy Berry. Main crops include, in order of availablility starting in June, are blackberries, blueberries, Figs, seedless table grapes and muscadines. We usually plant a winter garden and occasionally have more than we can use. In the winter late December through March we have fresh cut Pussy willows (about 6 or more varieties) as well as rooted trees. We also have eggs available year round but they usually sell out at the farm in the summer.
How we grow our crops- although we are not organic we use as many organic methods as possible. Our mission is to sequester as much carbon as possible while we still make a living. Our chickens are free range meaning they have a seriea of paddocks that they graze in. Ann uses garlic for deworming, they have ample opportuniy for "dusting" for mite control. She will only result to a chemical if the girls (birds) are sufferring. Eggs are destroyed for what ever period is required. We do feed a supplemental layer crumbles and scratch corn that is not certified organic. The figs and muscadines are organic. The pussy willows are organic. our gardens are pretty much organic using chicken litter for fertilizer. We do use electric fence to keep the ground hog out of the garden. In the blueberries we have worked out a system with our research plots of using Ball clover for a fertilizer (N) source and will put this in place this winter. So it will be the 2013 crop before we have totally elimated fertilizer. Also there is a disease in blueberries (mummy berry) that we usally use a single application of fungicide in late March… other wise we use all organic materials for pest control. The Seedless table grapes are the least organic as they require a regular fungicide for downy mildew control. We use phosporus acid, a nutrient spray, for the fungicide but it is not certidied organic. We do use Crimson clover in the table grapes and have eliminated fertilizer. We also use a neonictinoide for insects and it is not considered organic.
Practices
Sustainability to us is economic, environmental and social. We believe that as farmers we have a responsibility to fix more carbon than we use and sell off the farm. Being part of helping to enhance our local community by providing local provisions is our reason for being. Lastly that we should make a living from our efforts. Back to our environmental philosophy. We are not organic, we like to think we are permaculture but in truth, we know that nothing is permanent. Our Figs and Muscadines are produced orgaincally in that we no applications of palant pharmaceuticals are made and no fertilizer is applied. We use legumes for a nitrogen source in the muscadines. Our persimmons, a new crop, are also organic but the trees need a few more years for any volume. The willows are also organic and play an important role in protecting streams from erosion and absorbing/slowing movement of soils into the raparian zone. Farming is a flow of energy and resources. We use as little plant pharmaceuticals as we can. We find that invasive species as a result of globalization are our biggest problems.