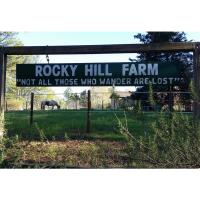 Rocky Hill Farm
Contact: Meri Goswami
Address: 109 Wardlaw Lake Road Central, SC, 29630
Email Address: RockyHFarm@gmail.com
Phone: 864-722-5170
About Us
Established in 2017, Rocky Hill Farm is committed to "food not yards", intensive small space gardening, plant, animal, and insect therapy, reduce/recycle/reuse/repurpose, and minimalist philosophies.

I don't have a greenhouse so if it's grown here I know first hand that it's a hardy plant. Some of the plants I sell are volunteers, a few are ones I've started from seeds, many are from cuttings and offshoots of parent plants, and some are rescues that I've been able to coax back to healthy growth (which sometimes takes many months). I call the rescues "survivors" as they constantly remind me of the universal will to live that exists in all sentient beings. Where there's life there's hope. I find tending plants to be very therapeutic.

My little Findhorn garden will probably be a kitchen garden this year so it's doubtful I will have any vegetables to offer. We'll see...

Madhu Makhi Apiary currently has eleven strong hives. Honey bees are fascinating insects and excellent teachers with their own unique therapeutic value. If all goes well Rocky Hill Farm should have Issaqueena Forest Honey for sale this fall (2019).

Purchases of anything I list should be considered a gift donation to be used for the care of my aging horse, Choctaw, and my aging companion dog, Dill.

Every journey starts with one step and my 2019 journey is dedicated with love to my brother, Ricky. All efforts are with love and gratitude to God, for Leah and all of my family, my friends, and for mental, spiritual, physical, and emotional health.


Practices
Non-certified, traditional organic gardening methods. No chemical fertilizers, herbicides, or pesticides, ever, on the land.

Choctaw is wormed with Ivermectin once every two months and her manure is composted and is the primary fertilizer for outdoor plants - in the ground or potted. Fly control is topical botanicals on her body and fly traps.

During the winter months and long before honey supers are placed in hives, 2 Apivar strips are placed in each lower brood super to guard against mites. They remain in the brood super for several weeks and are then removed.