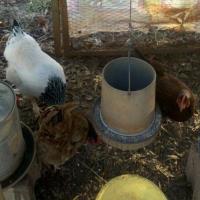 Yardley Farms LLC
Contact: Carol Yardley
Address: 430 North Garrett Street Cateechee, SC,
Email Address: carolyardley@gmail.com
Phone: 864-639-4728
About Us
Small farm using organic growing methods, there are currently 3 horses, 3 dogs, 2 cats and 30+ chickens. Due to predators in 2014, alternate forms of out door space had to be developed for the new chickens. The farm also has an garden that is also having to have new covers made for the chickens to be able to run on the beds. Some produce is put on sale through the CAFE as available.