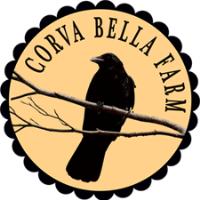 Corva Bella Farm
Contact: Cristiana Calderan Bell, Connor Michael Bell
City: West Union, SC, 29696
Email Address: farm@corvabella.com
About Us
This weekend's market is our very last ever on CAFE.

Connor and I would like to thank Elian, Lance and all of the CAFE volunteers, as well as our customers-- for supporting us the last few years of being on the exchange! Our farm is changing scope and size due to the impact of COVID, but also because Connor is enlisting in the Navy this Spring. We've always been a mother/son team and I fear that trying to handle it all on my own is simply too much. So I'm preparing for what the future may hold.

Mother-son team Cristiana Calderan & Connor Bell are Oconee county smallholders, rare heritage breed conservators and producers of rare breed "slow pork"- featuring the critically endangered Meishan pig and the rare Kunekune pig.

All of our pork is produced out of registered and pedigreed parent stock, guaranteeing you the traceability and purity of breed that produces consistent breed-specific craft pork. These small heritage hogs are raised on pasture & forest, with no added antibiotics or hormones. Slow pork means slow growth, and rich flavor... our pigs take 12-18 months to reach harvest weight. This lengthy growth time brings beautiful marbling, deep red meat color, and exceptional fat quality.
Practices

Ours is a uniquely different approach to small-scale rare breed craft pork production, sustainably based on the future health and success of the rare, heritage breeds we work with. We believe in happy and stress-free pigs. All of our pigs freely roam in pasture and forest areas, where they graze, forage, nap in the sun, wallow in the mud, and sleep in warm and dry pig houses at night. Our herd is protected by a team of Karakachan livestock guardian dogs, Vladimir and Valeska.

No added antibiotics or hormones. All meats are USDA inspected and processed by an Animal Welfare Approved facility.